Cook
Toyota-Powered "BugRod" Finds New Owner in No-Reserve Auction
The "ratrod" craze isn't dead. These rusty, sometimes dilapidated cars may seem odd and completely, but they definitely have character.
And we love them even more when a classic car donor is involved. Behold the latest "BugRod" we caught on the Bring a Trailer online auction site, a ratrod based on a 1966 Volkswagen Bettle built by Rusty Speedwerks workshop located near Calgary, Alberta. This one is quite unique because it's powered by a 1.5-liter Toyota four-cylinder 1NZFE engine. It's the same mill found under the hood of the Toyota Yaris, and outputs just over 100 horsepower.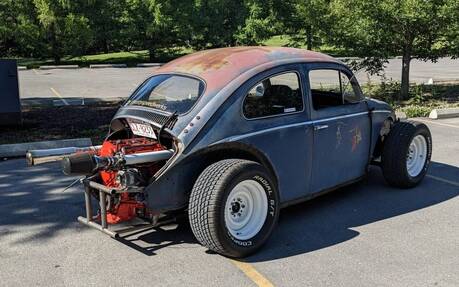 The engine is mated to a four-speed manual gearbox, and is mounted longitudinally on the rear of the Beetle – which is why the chassis has been slightly extended and the rear hood removed to proudly display its Japanese mechanical bits. Fuel is supplied to the engine thanks to a 30-litre fuel cell located in the front trunk.
This Beetle wears Cooper Cobra 245/60 tires at the front and 295/50 from the same brand at the rear wrapped around white Wheel Vintiques rims. KYB shock absorbers keep this Bettle close to the ground, while trying to offer what we imagine to be a semblance of ride comfort…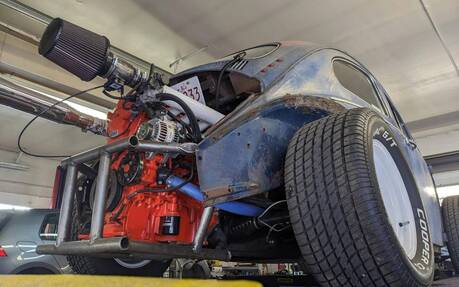 The interior is simple, and includes advanced conveniences such as… seats! But also a roll bar to secure multi-point seatbelts, a speedometer and a fire extinguisher. The ECU, battery and related electronics are all affixed where the rear seats used to be. As the great automotive designers would say, "pure and simplistic!"
The car is plated in the Province of Alberta, Canada and found a buyer yesterday during a no-reserve auction for the sum of $5,900 US, which equals roughly to $7,770 Canadian at the current exchange rate.
More details about the listing: https://bringatrailer.com/listing/toyota-powered-volkswagen-beetle/