Cook
how to reduce your environmental footprint?
More than ever at the heart of the news between global warming and rising energy prices, reducing the environmental footprint of restaurants is now becoming a major issue in the kitchen, but also for manufacturers. In order to try to open up some avenues, let's start by looking at cooking through the experience of chefs, manufacturers and also researchers.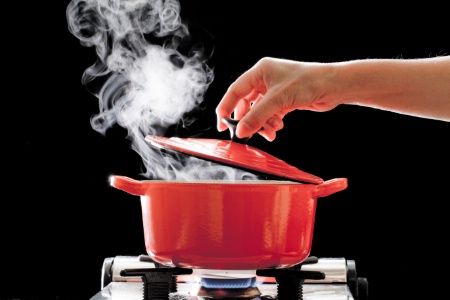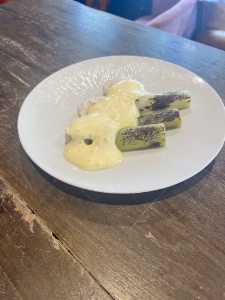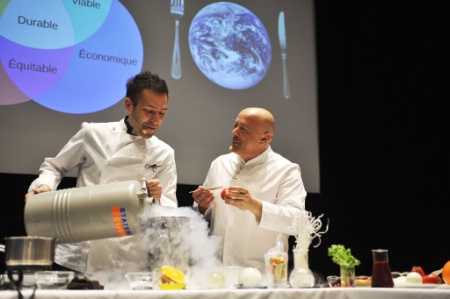 "We need to rethink our way of cooking, rethink cold and air conditioning. Energy insecurity in restaurants does indeed exist, but it is not impossible to improve the situation with a step back and necessary reflection, starting from the training centers and then at all levels. It will take around twenty years to make things a reality and appropriate units of measurement that we do not yet have today in the kitchen.." Thierry Marxchef 2 canvases Michelinco-founder of the French Center for Culinary Innovation Marx Haumont, Paris Sud University, is quite pessimistic when asked about energy savings in the kitchen: "AIn terms of waste around water and energy, we are far behind. The 175,000 restaurants in France are suffering an energy crisis, the cost of which will not drop".
Faced with rising energy prices and environmental issues, reducing the carbon impact of restaurants is no longer an option today, but a necessity. In the kitchen, cooking represents a crucial role in terms of energy and water consumption. What avenues are available to restaurateurs and chefs? How to act concretely?
► Adapt and change your habits
"We cook today like we cooked in the Middle Ages!" For Raphael Haumontresearcher in physico-chemistry and professor of cuisine of the future at Paris Saclay University, there is no doubt, we must review our ways of cooking and in particular the temperatures : "Cooking coagulates molecules. For an egg, this starts from 50°C, while for a vegetable, from 82°C. In reality, many products can cook below 100°C while we keep this boiling reflex. Gaining 15 degrees in terms of energy would be great… For this, the most obvious solution would be to start by being able to adjust the temperature of the cooking plates to the nearest degree." Another idea: reduce our water consumption by using airtight systems with lids and 3 spoons of water to cook a vegetable. The expert recalls that a vegetable is made up of 95% water."We may need to go to the extremes to gain energy and efficiency, cook certain products longer and less forcefully, and others in flash cooking on the contrary, by adapting to the product and knowledge about proteins."

"We cook in symbiosis with nature but it is impossible and unthinkable to choose our cooking methods simply for energy reasons. Obviously, this matters, but we cannot deny our desires and our needs when deciding on à la carte recipes. We practice common sense ecology, not restrictive ecology. I don't want to switch to total induction but I prefer to monitor recurring energy waste. I spend my time educating young people in this sense. We cannot question every trend, the restaurant remains a place where the customer must have fun. Each energy has its advantages and disadvantages and the best energy is that which we do not consume", testifies Jacques Marcon3-star chef and owner of Maisons Marcon.

According to Ludovic Poyaustar chef and owner of L'Auberge du Cheval Blanc and president of the sustainable development commission at Umih: "Cook the etouffe with a lid, at low temperature overnight, or snacking directly on a food seem to be the best co-responsible alternatives for gaining energy. I'm not talking about sous-vide cooking using plastic but rather the use of stainless steel dishes with covers. For fish, induction stainless steel planchas, which heat up in bursts and stay hot, seem to be a good alternative. Logical but essential tip, opt for small pieces And adapt the cuts is part of common sense to minimize cooking times. You can also cook in the cold, if you have the equipment, use dried meats, cook with the water from which the vegetable is made… And use ancestral methods and modern tools."

"Slowly, new mechanisms will be implemented in kitchens and we will probably seek to implement, with modernity, methods that have proven themselves for hundreds of years. I think low temperature cooking that our grandmothers already mastered wonderfully with their seven-hour lamb, or even in the solar oven of the Ancients! ", says Thierry Marx. At the French Center for Culinary Innovation, researchers are working on the materials of tomorrow to reduce energy impact. "We need to think about the substance of the problem, understand that there is an investment to be made and efforts made at the level of the pots, the stoves… Titanium, copper, casserole dishes are avenues in this direction. We think about sustainable investments that work immediately".
► Steam cooking
"Steam cooking is a type of cooking that requires less energy than other cooking methods. She preserves nutrients and flavors of food", affirms Aline Scandella, senior marketing manager at rational France. Indeed, low temperature cooking allows food to be cooked slowly at lower temperatures than traditional cooking methods. This helps preserve the quality of food on the one hand and also has the advantage of reducing energy consumption. Moreover, "there loss of raw material during cooking is reducedwhich represents savings and reduces waste", according to the professional.
"Obviously, steam cooking uses less energy because they consume less water but also allow a less tedious cleaning due to the fact that they are less messy and therefore require little or no few chemicals to clean", explain Damien BacqueKey Account Manager Hobart.
Sous-vide cooking is a cooking technique that requires the use of plastic containers, which is often critical.
► innovative equipment
"In a context where energy efficiency is a real challenge for professionals, relying on innovation and technology can make it possible tosave up to 30% energy", says Aline Scandella. Indeed, certain devices, notably from Rational, make it possible to reduce waiting and cooking times, with almost immediate production. The intelligent regulation offered by these heat tools ensures energy management according to need. The device detects cold spots and knows when it needs to heat up again. Result: cooking food is up to four times faster and consumes up to 40% less energy compared to conventional cooking appliances.
Connectivity is also increasingly present in professional cooking systems. The devices can be remotely controlled and monitored, which makes it easier to manage professional kitchens. Additionally, regular software updates add new features and improve performance.
Training programs must be followed to ensure you get the most out of the equipment and transmission can sometimes be difficult.
► Barbecues
"I favor low temperatures and I have just invested in a Japanese barbecue which is interesting from an energy point of view, and obviously taste. You can finish cooking meat, fish and vegetables there, smoke food there, and cook certain shellfish such as langoustines. It also allows you to use less fat, offers the possibility of lacquering, etc. It is therefore a useful and sustainable investment for the establishment. But if you really want to reduce your environmental footprint, you also have to work with products sourced close to home.", explains chef toil Rodolphe Regnauldowner of the Auberge du Pont.
At Bel Ami, Omar Abodibthe owner, invested €50,000 in 2021 to redo the kitchen, which allows the chef Loc Lourmire to no longer light anything in advance, to have hobs where only the necessary areas heat up, to light less hastily and at the same time to gain comfort for the work teams. He also invested in a Big Green Egg barbecue.
Professionals emphasize the particles released by these machines.
#cooking #energy #equipment