Cook
First of 300 Koenigsegg Gemeras Arrives Packing Nearly 2,300 Hp
Announced back in March 2020, the all-new and sensational Gemera from Swedish automaker Koenigsegg has finally arrived. The first of 300 production units of the four-door "mega GT" was shown in a world premiere on Monday.
And you know what? It's even more powerful and explosive than expected. Three years ago, Koenigsegg said the Gemera would deliver around 1,700 horsepower. As it turns out, it's up to 2,269 horsepower. For real.
To get to that otherworldly number, a new Raxial Flux electric motor, hailed as the world's most powerful automotive-grade motor with six-phase technology, replaces the three Quark motors from the concept. Nicknamed "Dark Matter," it saves precious space and weight while producing 789 horsepower.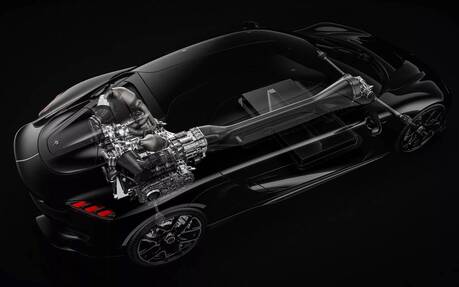 The other part of the equation is a twin-turbocharged 5.0-liter V8 derived from the Jesko, though with major revisions to make it fit (including the exhaust). For instance, the turbos sit between the two cylinder banks in a hot-vee configuration. Combined torque amounts to 2,028 lb-ft.
Gemera customers who want something a bit tamer can also pair the Dark Matter with a twin-turbocharged 2.0-liter three-cylinder engine called "Tiny Friendly Giant." In this case, output is a reasonable 1,381 horsepower, while torque is rated at 1,364 lb-ft.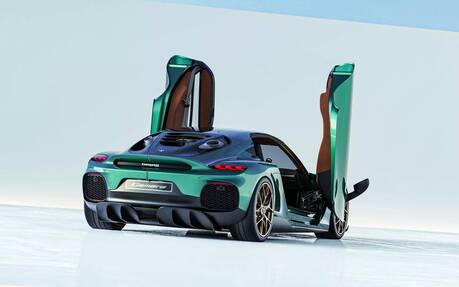 The all-wheel drive system, incidentally, enables four-wheel torque vectoring. As for weight, the Gemera is said to tip the scales at no more than two tons, or 4,409 lbs.
Since Koenigsegg wanted the car to be able to carry luggage for four people, thus requiring a fair amount of cargo space, several components had to be revisited or invented. In particular, the Jesko's Light Speed ​​Transmission has been adapted to wrap around the power unit in a beautiful package that represents the automotive equivalent of a high-end Swiss watch. It's now called "Light Speed ​​Tourbillon Transmission."
What's more, since the company wanted customers to be able to travel long distances, the Gemera features the world's largest fuel tank for a production car at 115 liters.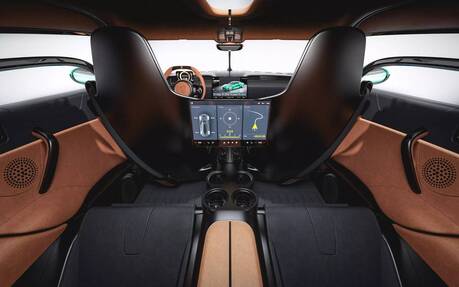 "The Gemera HV8 is not only the most powerful and extreme production car on the planet Earth, but it is also the most practical and user-friendly sports car ever created," said company president Christian von Koenigsegg. "Its incredible response, handling, engine sound, crisp transmission, spacious interior, and four-wheel-drive systems combine to create an unprecedented and unparalleled driving experience, ready to set numerous records of performance around tracks and in straight lines."
While Koenigsegg did show us the first customer-spec Gemera, the wait is far from over. Production will begin near the end of 2024, and deliveries will follow in the first part of 2025. Take a look at our photo gallery above for more pictures including the Gemera's innovative powertrain.