Cook
Daytripping: The Gourmet Girls, IL Basilico, Chicken – all locally owned
It seems as if many readers of this feature like when we get in our virtual car and visit several restaurants. It's fun for me too, so let's begin another trip together to end the summer. And why does the summer go by so quickly? That's a subject for another day.
Let's begin in Pikesville and drop by The Gourmet Girls, 3713 Old Court Road. Open 7 days with display cases filled with goodies. From soup, sandwiches. flank steak, lasagna, crab cakes, and breakfast served until 11 weekends and all day weekends. There's a full liquor department with craft beers, wine, and the hard stuff (available 7 days).
You can of course carry-out, dine in, or order online. You probably would enjoy making your selection from their two-sided salad bar and selecting from a large array of cakes and pies. Plenty of free parking and locally owned. A private meeting/party room….410-581-4914.
Let's crank up the motor and head to Timonium and IL Basilico, 49 West Aylesbury. This too is locally owned and it's BYOB. Open 7 days with lots of free parking, seating for about 80, a kids menu, from appetizers to dessert, catering, carry-out, and Grub Hub delivery.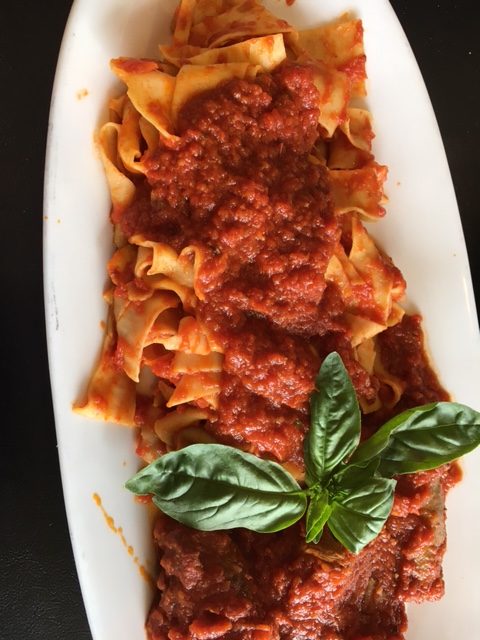 Excellent pizza and chicken parm, among other dishes. Chef Tomas is a certified food service manager…410-453-6603.
Before we head to our third location, a few words about the Calvert Cliffs Nuclear Power Plant (the only one in Maryland) located on the western Chesapeake Bay shore near Lusby in Calvert County. It opened in 1975 and is owned by Constellation Energy with a construction cost of about $2.2 billion. So if you're planning to build one, start saving now.
There are five emergency generators serving two reactors. The reactors can produce up to 1,790 megawatts of zero-emission energy. No idea what that means but it sounds good. The bay water is pumped out at a nominal flow rate of 1.2 million gallons per minute per unit for each steam turbine condenser. Again, this sounds like I know exactly what I'm talking about.
The Nuclear Regulatory Commission's estimate of the risk of an earthquake intense enough to cause core damage to reactor one is 1 in 100,000 and 1 in 83,333 for reactor 2. The chances of me being near a nuclear reactor during an earthquake, are 1 in 100,000,000.
You can get fairly close to the plant and it is quite impressive. On the water, I think would provide a better view. If by chance you want to call them and offer some advice on nuclear energy, feel free, 800-483-3220.
Okay, all that excitement has brought back my appetite so let's go to Lutherville and say hello to the folks at Poulet, 2346 Falls Rd. If you're heading north on 83 and get to the split where Falls Rd is to the left and 695 is straight ahead, go left a very short distance, and there it is on the right.
Open 7 days with great wraps, custom-made salads, breakfast, a pit turkey stand, plenty of free parking, hand-dipped ice cream, selections that include chicken, pork, salmon, and turkey with limited indoor seating, carry-out ( which I think is the bulk of their business) this is definitely fast, casual dining and locally owned. You order your food from the front and it will be ready quickly. They do catering. Oh, I had to be sure I mentioned this – Poulet is a peanut and tree-nut-free restaurant. On these hot days, try the root beer float….410-339-3900.
Okay, we're done. If you're still hungry it's your fault. By the way, if you visit any of these restaurants, tell um Eddie sent ya.
Okay, one more thing. Gosh, I feel like Columbus. Why do I keep mentioning locally owned? I personally feel that's very important in a restaurant. For one thing, it means the owner is probably there most of the time watching over restaurant activity. That means the staff is probably more attentive to their particular jobs. It also means customers can talk to the owner directly with either pleasantries, complaints, or comments. The owner can make their own assessments as to what may need to be done to improve service or food quality. Now do you get it?

Eddie Applefeld is a Baltimore native and a graduate of Towson University. He has been in the broadcasting profession for over 30 years. Currently he is the Promotions Director of WCBM radio. Before that, he was part of the Rouse & Company show on WQSR, host of a cable TV show called Dining Out and adjunct instructor at Towson.
His past accomplishments include being named a finalist in Baltimore Tourism's Employee of the Year Program and winner of Toastmaster's Speaker of the Year contest. He was also twice a heartthrob for the American Heart Association's gala fund raiser.